The Girl Next Door (2021)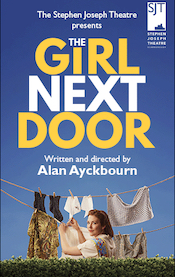 To navigate, use the links in the bar above or to the right.


World Premiere:
8 June 2021

Venue:
Stephen Joseph Theatre, Scarborough

London Premiere:
N/A

Venue:
N/A


Play Number:
85

Published:
No

Other Media:
Streamed film


Short Synopsis:
A lockdown love story about the ability of love to rise above adversity and reach across the generations.


Availability
Amateur:
Not currently available for amateur performance.

Professional:
Not currently available for professional production.


The Girl Next Door
quote

"The one consolation I had amidst all this miserable current crisis with this wretched virus... The one thing I kept telling myself was, well, at least it'll keep my wretched brother at a safe social distance from female temptation... Only for you to end up falling in love with someone seventy-eight years away…"
All research and original material in The Girl Next Door section of Alan Ayckbourn's Official Website is by Simon Murgatroyd M.A. and copyright of Haydonning Ltd. All other material is copyright of the named copyright holder. Please do not reproduce any material without permission of the copyright holder. For enquiries, email: archive@alanayckbourn.net